PADEL COACHING CERTIFICATION COURSE
Friday 24 to Sunday 26 June 2016

The 3rd padel certification course for coaches will take place in Rockbrook Padel Club in Rathfarnham on the 24th, 25th and 26th of June.
Course fee and certification 550 euro (please ask for a special discount if you are a College student or Tennis Club certified coach).
Places are limited so please book your place by emailing info@padelfederation.ie
and completing the application form online:
http://goo.gl/forms/oORd0Y24Djjqm8q22
For further info please look up www.padelfederation.ie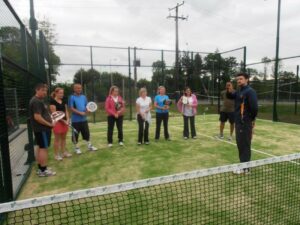 The Coaching Courses organised  by the Padel Federation of Ireland are
the only certified padel courses in Ireland. 
Who delivers the course?
The Coaching Course for padel coaches is organised by the Padel Federation of Ireland and the objectives are to confer coaches with a technical and tactical certification to be able to coach padel at club level. Our official certified coach is Colin O'Brien, who holds a coaching certificate by the Spanish and the European Padel Federations.