Padel Certification Course for Tennis Coaches
We are pleased to announce that Ireland's first Padel Certification Course specifically for Tennis Ireland qualified tennis coaches will take place soon. The syllabus for this course has been specially developed to take into account the skills tennis coaches already possess, thus saving time and money for those coaches who are contemplating getting involved in Padel.
COURSE DATES: Sunday 18th and Sunday 25th June 2017.
COURSE TIMES:
Sunday 18th June: 9am-4pm (lunch break from 1pm-2pm).
Sunday 25th: Times will be assigned to coaches for a 30 minute practical lesson.
COURSE VENUE: Rockbrook Padel Club, Rathfarnham, Dublin 16.
COURSE TUTOR: Colin O'Brien. A former Irish Davis Cup player, Colin is currently teaching Tennis and Padel. He is certified by the Spanish and European Padel Federations.
COURSE FEES: The full cost of the course and assessment process is €250. The course normally runs for 15 hours, and costs €500, so this specific tennis coaches course represents significant savings.
TO BOOK YOUR PLACE: Complete the online application form at http://goo.gl/forms/oORd0Y24Djjqm8q22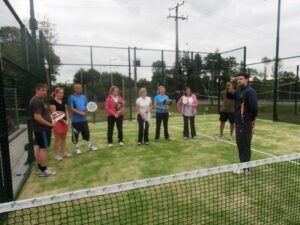 FURTHER INFORMATION: www.padelfederation.ie and info@padelfederation.ie.
Padel tennis videos:
From the European Padel Federation: https://www.youtube.com/watch?v=b1B5WjORy7Y
From London Padel Club: https://www.youtube.com/watch?v=tGesVMH-Wrs
All the best,
Joe Cabello
President of the Padel Federation of Ireland.