A new president was elected at the last AGM of the Padel Federation of Ireland held in our Headquarters at Bushy Park Dublin last November. Naomi Nicholl was elected unanimously to lead the Padel Federation for the coming years. The former President, Mr Joe Cabello, will continue his involvement in the Padel Federation of Ireland as honorary lifetime President. We wish to thank Joe for his amazing work and commitment to padel at the helm of the Federation since it was founded in 2011 and we wish every success to Naomi Nicholl in her new position as President.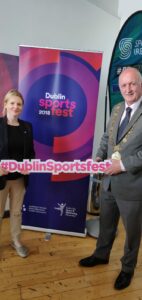 (Naomi Nicholl photographed beside the Lord Mayor of Dublin, Niall Ring, at the launch of the Dublin Sports Fest in Dublin).
Naomi Nicholl has been involved in padel over the last few years, including the areas of coaching, marketing and management of Bushy Park Tennis & Padel Club.
There were also new officers elected at our AGM to work on the National Committee. We wish to thank them for their commitment and generosity in accepting their nominations. We would also like to show our gratitude to all officers serving on the committee for their amazing support and dedication to the spreading of padel in Ireland over the last few years.
The newly elected officers are:
Siobhan Murray
Myles Cassidy
Dickson Butler
Maria Collins
David O´Driscoll
The new officers will help in many different tasks within the committee, including being reps for different clubs, helping with the National Team, promotion, institutional relations, secretarial duties, etc.
We are always open to suggestions and new ideas. We are happy to listen, so please get in touch with us at our Headquarters in Bushy Park or send us an email info@padelfederation.ie
Congratulations to the new President and the new officers! Thanks for your good work and commitment!