PLEASE FIND HERE DRAW FOR IRISH PADEL TOUR BUSHY PARK
IPT bushy advanced
IPT bushy intermediate1
Saturday IPT bushy intermediate2
Sunday IPT bushy schedule
IPT bushy schedule2
The Tournament has nearly 100 players competing. Good luck to all!
———————————————————————————-
The Irish Padel Tour National Ranking has begun with the first competition in Bangor, Northern Ireland. The next tournament is taking place in Bushy Park Tennis & Padel Club on the 23rd and 24th March. Game on!
The pdf file can be downloaded here: Irish padel tour Ranking March 2019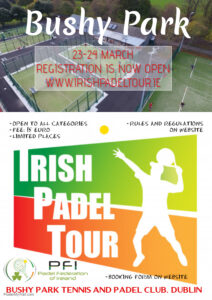 Bushy Park Tournament Information

There are 3 categories:

Beginners (Saturday 23rd)
Intermediate (Sunday 24th)
Advanced (Sunday 24th)
There are 2 alternatives for the Fixtures, depending on final numbers playing the competition:
1-    League format. ¼ finals, semifinals and final
a.    1 set or 9 games (League) 2 sets and super tiebreak ¼ and semis. Full match Final.
2-    Draw / Plate
a.    2 sets and super tiebreak. Full match Final.
The draws will be done following the rules below:
1.    Ranking points 2019
2.    Classification 2018
3.    Number of tournaments played in 2018
4.    Level – standard
If you wish to book your place for the tournament, please call the desk 01-4905960, send an email to info@padelfederation.ie  or fill in the Google Form: https://goo.gl/forms/3v8vqvgvjnHEI0Ql2
Irish Padel Tour Team
www.irishpadeltour.ie