The Padel Federation of Ireland are delighted to announce that the Irish Padel Tour will be organising the next tournament in Rockbrook Padel Club.
The dedicated website is www.irishpadeltour.ie.
You can sign in for the tournement here: https://goo.gl/forms/3v8vqvgvjnHEI0Ql2
The following tournament is in Bective on the 15 and 16 June.
14-15 September     ALL IRELAND PADEL CHAMPIONSHIP IN BUSHY PARK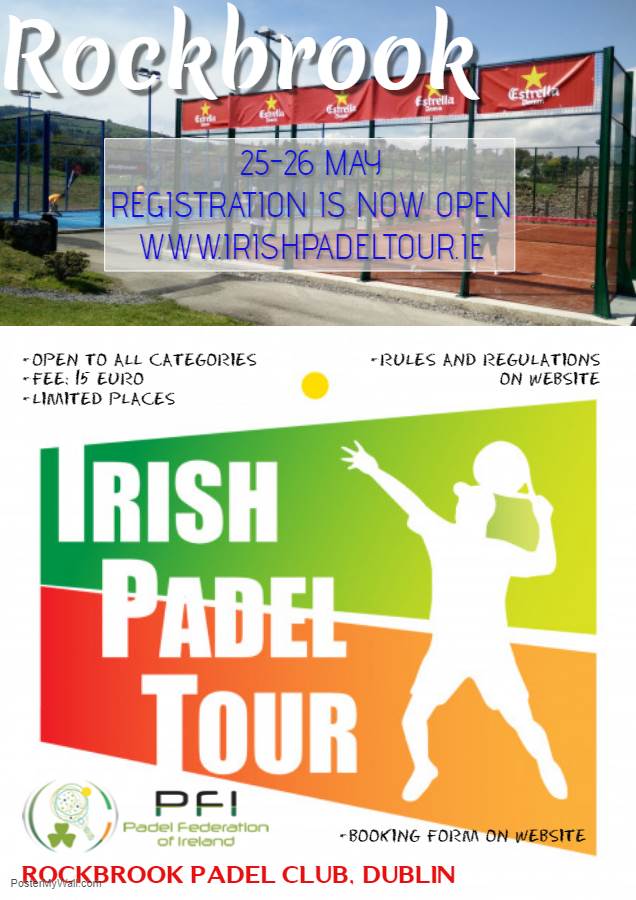 The categories for the tournament are BEGINNER, INTERMEDIATE and ADVANCED. Both men, both women and mixed category allowed.
The format of the Rockbrook tournament is as follows: (this may change depending on the number of participating players)
-Matches will be played to the best of 9 games. Semifinal and final will be played to the best of two sets with super tiebreak.
-There will be a National point system in place (please see chart below).
-Prizes for the top 2 teams in each category: trophies and padel gear vouchers.
REGISTRATION
Players must register with Irish Padel Tour and provide the following information:
Full name
Email address
Mobile Number
Category
Tournament applied for
Please fill in this form https://goo.gl/forms/3v8vqvgvjnHEI0Ql2
or send an email to info@padelfederation.ie or call 01-4905960.
The entry fee per player for all tournament is €15
(excludes Federation fee for competitions: only 5 euro payable annually)
RULES OF PLAY
All the rules of padel and disciplinary code apply for this tournament under the International Padel Federation regulations and as stated by the Padel Federation of Ireland.
Please look up the following link for further information: https://padelfederation.ie/padel-federation/padel-rules/
The Irish Padel Tour is organised by the Padel Federation of Ireland for all affiliated clubs in Ireland and Northern Ireland.
Please book your place in the tournaments at least 2 days before the commencement of the competition.
GAME ON !