Dear padelers,
It is with regret we have to inform you that the Padel Federation of Ireland committee members have decided to cancel the All Ireland tournament due to take place on the 1oth and 11th October.
The various Covid-19 measures introduced by the Government for the Dublin area have made the tournament non viable at this time. We look forward to organising the All Ireland Championship in the Spring of 2021 and begin our Irish Padel Tour with a major tournament. Then we will close the tour with the All Ireland 2021 in September next year, as we usually do.
We hope all players and enthusiasts will understand our decision and join us in future tournaments.
Yours in sport! Stay safe!
Slán Go Fóill !
Padel Federation of Ireland Committee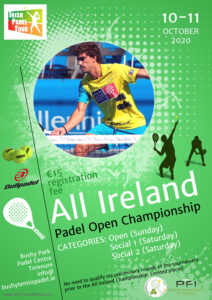 This event has been cancelled until further notice.